Located on 40 peaceful acres in Blairstown, N.J. Patewood is just minutes from Highway 80, a bit over an hour from the George Washington Bridge and only 11 miles from Pennsylvania.
There are two barns with matted 12 'X 12' stalls. Fans are provided in the summer and heated water buckets in the winter. Included in the amenities are two secure tack rooms, private lockers and a wash stall with hot water.  There is a bathroom in the lower barn.  Grain is fed AM and PM, hay is fed AM, afternoon, PM and at night check.
The 72 x 140  indoor arena is connected to the upper barn and is bathed in streams of natural light from the continuous ridge skylight and from windows that surround the riding space. It is a bright and beautiful space to work in.
There is a formal outdoor dressage arena with sand footing in our large 100 x 200 outdoor arena.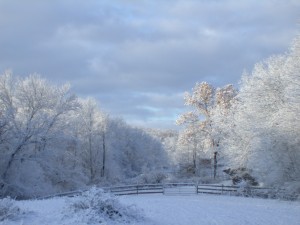 Also available is a sixty foot round pen.
Various paddocks and fields ensure plenty of turnout in a small herd, semi- private or private situation.
The beautiful fields of Patewood lie nestled in woods which contain trails and streams.
Owner lives on premises.
PHOTO GALLERY OF FACILITY
PATEWOOD FARM is made up of three barns (Upper barn, Lower barn and Quarantine barn) and two riding arenas (Indoor and Outdoor) and a round pen. There are two fields and five paddocks, most with run in sheds.
…………………………………………………….

The UPPER BARN is a wooden Amish built barn attached to the indoor. It is made up of eight 12×12 matted stalls, a tack room and a feed room.
Upper barn


Center Aisle

The LOWER BARN has four 12×12 matted stalls, a wash stall, tack room and bathroom.

Lower barn

The riding spaces

A formal dressage arena is set up each spring