SUZANNE MARSHALL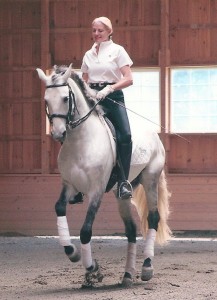 Suzanne has been involved with horses for over forty years. She has competed in equitation, hunters and dressage, having trained exclusively for dressage for over twenty seven years. She studied with Susan Shrader (a certified Centered Riding instructor) for eight years, Doina Fischer for over seven and also travelled to Spain where she worked with Luis Ramos Paul, the former director of the Real Escuela Andaluza del Arte Ecuestre. Dominique Barbier, the author of the best selling Dressage for the New Age, helped guide Suzanne for more than sixteen years and she teaches his method of lightness and harmony.  Suzanne currently works with Doina Fischer who comes from Europe to teach clinics at Patewood in Classical dressage and working equitation. She also works with Jean-Claude Barry from the Samuar whenever he is in the United States. Suzanne's combination of eight years of German dressage and nineteen years of French classical dressage give her a unique perspective on the two schools of dressage training.
Suzanne began her career with Arabians which helped her learn early on the sensitivity and respect necessary to form a true relationship with a horse.
She has worked with numerous breeds, ranging from Thoroughbreds, Quarter Horses and Warmbloods to the more exotic Friesians and Lusitanos. Her love of the Iberians breeds (Andalusians and Lusitanos) began more than nineteen years ago and she is uniquely qualified to handle the different training requirements of the baroque breeds (Friesians, Andalusians, Lusitanos and Lippizaners). She works with such diverse breeds as Morgans, Arabians, Irish Draughts, Dutch Warmbloods, Quarter Horses, Connemaras, Thoroughbreds, Friesians, Andalusians and Lusitanos among others. Although perhaps best known for her work with babies where her endless patience and humor help create happy, willing partners, she continues her compassionate and gentle training methods through the levels, striving throughout to create a fun, harmonious relationship between horse and rider resulting in a true dance.  Suzanne also has a special gift with stallions.  Her sensitive and emotionally charged Andalusian (PRE) stallion, Esto, taught her the art of "authority without aggression" that has allowed Suzanne to work successfully with a wide variety of stallions of all ages and breeds.  Suzanne's gentle, patient methods help preserve the natural fire and spirit that defines a stallion while shaping them into well-behaved gentlemen. In the last eleven years Suzanne has been fortunate enough to discover the brilliance, beauty and passion of mares and the former "stallion-girl" has found a new love through the power and heart of the Saddledbred mare, Rosebud and the incomparable elegance of the Lusitano mare, Ultima V.O.
Suzanne's love of teaching does not stop with the horses.  She continues her quest to help horse and rider forge a harmonious bond by working with riders of all ages and levels of skill.  Suzanne is a patient and gentle teacher whose humour and sense of fun make learning the demanding art of fine riding a pleasure.  You can read many unsolicited testimonials from students on our Testimonials page.  It is immediately obvious to all who work with her that Suzanne simply loves to teach.
Suzanne's simple philosophy of "Happy Horse, Happy Rider" brings a much needed sense of joy to a field of study often overshadowed by stress and demands on both horse and rider. Although passionately serious about her field, Suzanne never forgets the wonder and joy that brought her to horses in the first place and she shares this love and joy with all that come to Patewood.
You can find out more about Suzanne at suzannemarshalldressage.com
ALLY CATIZONE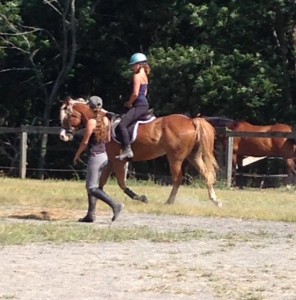 Disciplines:Hunter/jumper, dressage, eventing, equitation
Available:beginner-intermediate hunter/jumper lessons
Experience:10 years competing
Level 2 jumpers
1st level dressage
Lake Erie College IHSA team (regionals/zones)
   " I have had the opportunity to experience many different horses in my career, which became most diverse in my college riding. I have successfully competed my own horse in all disciplines from hunters to eventing. The most important aspect of riding, in my opinion, is to be a "jack of all trades" and understand the benefits of all riding disciplines. My lessons will focus primarily on basic hunter/jumper teachings but will incorporate the importance of proper flatwork, position and of course fun!"