THE LATEST PATEWOOD PYRS NEWS
PUPPIES ARE FUN!!!!!
OUR LITTERS ARE HERE!
Born Aril 18
My oh my – 11 puppies entered the world on April 18. Momma is Cherlyns Moonlight N' Love Songs – the last daughter of our CH Cherlyns Ajax T' Greatest Glory. She is an incredible mother. The sire, CH Cherlyns Regal Panache deserves to be one proud daddy! Both parents have all their OFA health checks and are NDG clear. Only one puppy is still looking for his home – a white male (the fourth picture down).  The others have all found their people and we couldn't be happier for them!  We look forward to showing our very own Patewood's Marcus Aurelius! Here are some pictures of puppies from this litter at 8 weeks old. Such cuties.
Born March 15
This litter is a lovely litter – and large at 13!  They are all healthy and good sized puppies.The mother is Cherlyns Christmas Cameo. She has major points towards her AKC championship title. The father is our very own CH Cherlyns Zenith of Patewood,  an AKC champion of record and only a few points away from his Grand Champion title. Both of them are NDG clear and have are health tested OFA good with clear hearts, patellas, shoulders and elbows. There are really good genetics in this litter as the grandfather on the dad's side (the dog that started this all – Champion Cherlyn's Ajax the Greatest Glory) lived to be over 13 ½! The great grandmother on the mom's side (Champion Winterwood Summerhill's Bling) is still going strong at 13! All puppies have found their homes. We look forward to the show career of Patewood's Theia – Goddess of Bling!
Other than our lovely puppies – there is a new addition to the Patewood Pack.  The lovely Cherlyns Moonlight and Love Songs has joined us. Passion (her call name) is Zen's littermate and the last daughter of our sweet Ajax.  I cannot tell you how wonderful it is to see this beautiful girl in my home. The only picture I have of her right now is of her photobombing but here she is… the elegant, playful and rather sassy Passion! And more exciting news… Passion is expecting. Her due date is April 18th. More Ajax grandpuppies! I am so excited.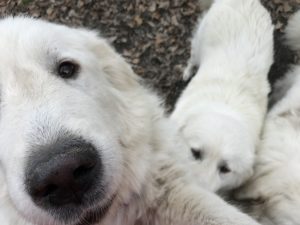 We believe the size of our babies' hearts is the most important attribute any of our puppies can have. Bling, Zen, Luna, Passion, Theia and Marcus are all loving and joyous creatures. This is what makes them special, not the fact that they are drop dead beautiful…but come on …the glam is fun! So here is the latest glam report: (note -due to PUPPIES! we aren't showing much right now. But Zen will be back in the ring soon to complete his Grand title.)
2018 was a good year for Patewood Pyrs!
April 15, 2018 was another red letter day for Patewood Pyrs.  The love of Zen's life, our beautiful Luna is now CH Cherlyns LaLuna of Patewood!  She is now a champion and went on to take Best of Opposite Sex too.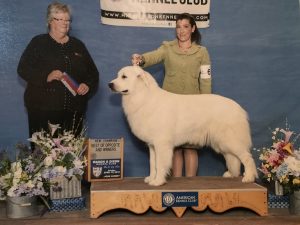 March 23, 2018 was a huge day for Patewood Pyrs. We have our first CHAMPION! Introducing CH Cherlyns Zenith of Patewood! He also took Best of Breed that day and the next day for his first major grand champion win and points. So very proud of this boy. And on March 24, 2018 when Zen was busy winning Best of Breed, Luna had to put in her two cents and win Best of Opposite Sex!  Can I say it was a very good day?!!!!!!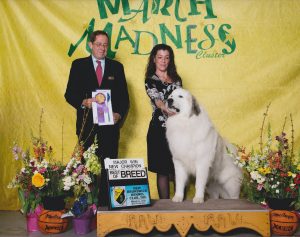 March 16, 2018 saw Zen and Luna get back in the show ring at the Monticello New York Kennel Club show. It was quite a day for the Patewood Dream Team. Zen took Winner's Dog and Best of Winners. Luna took Winner's Bitch and Best of Opposite Sex! What a pair they are. Can hardly wait to see their puppies this fall!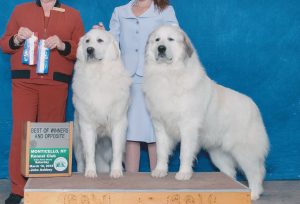 CURRENT SHOW RECORDS
Cherlyns Zenith of Patewood
As of April 1, 2018, Sweet Zen is a CHAMPION!  He finished his championship on March 23rd at the New Brunswick Kennel Club show and proceeded to take Best of Breed the same day. The next day at the Bronx Kennel Club show he went on the win Best of Breed again for his first major win and points towards his Grand Champion title. (Luna won Best of Opposite Sex that day too!) He has gone on to win 2 Select Dogs and another Best of Breed! He is, without a doubt, his father, Ajax's, son. Carrying on Ajax's grace, nobility and presence.
Cherlyns LaLuna of Patewood
As of April 15, 2018 our stunning Luna is a CHAMPION!  LaLuna finished her title at the Mason & Dixon Kennel Club show. She also took home Best of Opposite sex that day. I am so very proud of my lovely girl. LaLuna is retiring from the show ring in order to more effectively guard the farm (LOL) and to prepare for her first litter of puppies!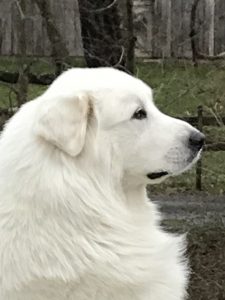 THE CREATION OF PATEWOOD PYRS
Suzanne's love of the Great Pyrenees began over fourteen years ago when she had the pleasure of meeting Cheryl Grimshaw of Cherlyn Pyrenees and her amazing bitch "Glory". It was love at first sight and Cheryl graciously allowed Suzanne to take home a puppy from Glory's last litter. This bundle of fur captured Suzanne's heart and grew into CH Cherlyns Ajax T' Greatest Glory (Ajax). His beauty was only exceeded by his gentle, kind and wise spirit. Suzanne was hooked on the breed.
CH Cherlyns Ajax T'Greatest Glory was and still is the heart of Suzanne and Patewood Pyrs. Born in 2004 – it didn't take long for everyone to realize Ajax was special. Big, beautiful and gentle – he has always epitomized what a Great Pyrenees is supposed to be. He won his championship title in 2007 by the time he was 3.  In 8 shows he won 8 firsts, 1 reserve winners dog, 7 winners dog and 7 best of winners! Absolutely amazing! After taking 8 years away from the show ring, Ajax went back in as an 11+ veteran at the Nationals to win 2 first places! His OFA hip rating of excellent has helped him sire many gorgeous, healthy winning puppies.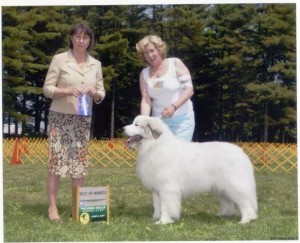 One day in 2014, Ajax saw the exquisite Cherlyns Class is Forever (Eva) and I can't say we can blame him for his ardor.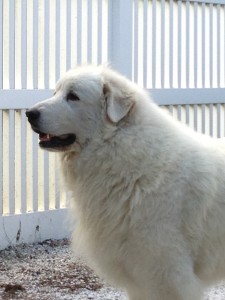 This love affair resulted in six beautiful puppies born on June 17, 2014 under the watchful eye of Cheryl.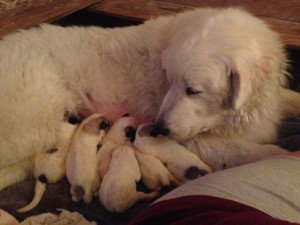 One of these puppies claimed Suzanne's soul and Ajax's son, Cherlyns Zenith of Patewood (Zen), joined the Patewood family.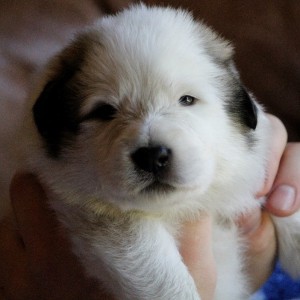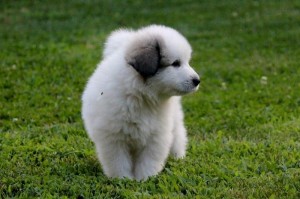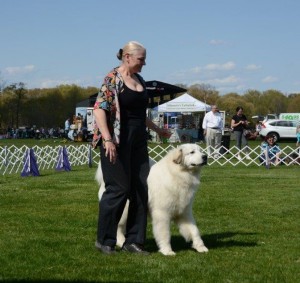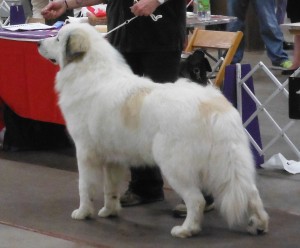 Not wanting our boys to be lonely, Cheryl assisted us in choosing a female furball to bring home. From Abstrax's Rotten to the Core and Cherlyns The Donald, Cherlyns LaLuna of Patewood was added to the growing pack.
In November of 2016 we were graced by the presence of the beautiful Bling. This older champion female joined the family to give Ajax some company his own age! Bling has given Ajax a new spring to his step and the two of them are enjoying their retirement years together. Thank you Cheryl Grimshaw for allowing us to add this special girl to our Pyr family.
Patewood Pyrs would not exist without the guidance, knowledge, generosity and friendship of Cheryl Grimshaw of Cherlyn Pyrenees. From honoring us with a dog as special as Ajax, to teaching Suzanne about whelping puppies, Cheryl has shared her vast knowledge without reservation. We will strive to do our best to live up to the high standards Cheryl has taught us as we to continue to learn from this wonderful woman and her fabulous dogs.